The revolutionary efficacy in SFA and BTK revascularization!
LEGFLOW RX/OTW provides a 100% anti-proliferative vessel wall protection,
and promotes rapid healing after mechanical balloon angioplasty.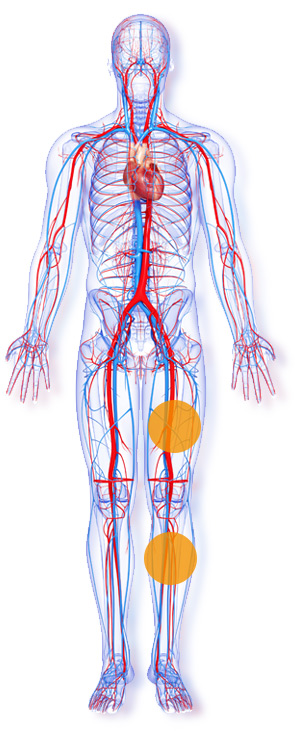 The best option for SFA/popliteal de novo and restenotic lesions.
Treating peripheral artery disease (PAD) in the superficial femoral artery (SFA) is a difficult challenge. The anatomy is very dynamic and contains complex lesions, but also patient comorbidities such as diabetes require the clinically most-effective therapy. The new LEGFLOW Paclitaxel-releasing peripheral balloon dilatation catheter provides a clinically most successful treatment of peripheral artery disease, and ensures a long-term vessel patency.

Please learn more about the excellent and clinically outstanding patient results, which are demonstrated and published by the RAPID Multi-center clinical study program.
The new treatment of BTK lesions and critical limb ischemia! LEGFLOW shows promising early clinical study results.
The rate of recurrent stenosis after PTA and stenting is higher in the below-the-knee area than in femoropopliteal procedures. The absence of metal struts makes the LEGFLOW balloon dilatation suitable for treating long lesions, especially in small diameter vessels and areas in which flexion and compression of the stent may occur and result in stent fractures, particularly in the below-the-knee area. Thanks to the new stable 'SAFEPAX' PTX coating technology, the treatment of critical limb ischemia patients appears as safe as POBA angioplasty.
SAFEPAX. 0.1µm unsurpassed small PTX
particulates protect from micro-
embolization.
LEGFLOW 'SAFEPAX' technology utilizes the clinically important, stable nanocrystalline PTX drug coating. LEGFLOW 'SAFEPAX' coating is a step beyond contemporary first and second generation DCB coatings which had to compromise on vulnerable balloon coating mixtures out of a high water soluble drug excipient with relatively large PTX crystals.
Minimizing the risk of microembolization.
The LEGFLOW 'SAFEPAX' drug coating technology provides a maximum protection from downstream micro-embolization effects to minimize the risk potential of any thrombotic event. The biological 'SAFEPAX' drug release matrix avoids the side effects of plasticizer or contrast media drug excipients. Especially for the treatment of lower limb ischemia patients, the 'SAFEPAX' PTX drug coating of Legflow minimizes any undesirable risk of pro-thrombotic side effects, which might be associated with Paclitaxel.
When invisibility equals safety!
1. LEGFLOW DCB PTX coating of non visibly small 0.1µm PTX particulates appear as safe as POBA.
2. Other DCBs with 'unstable' and brittle balloon coatings, consisting of large 2.0µm-3.0µm (visible) PTX crystals, bear a risk for the physician and patients.