The specifically designed and exclusively CE-Mark approved high pressure DCB for the treatment of shunt stenosis.
APERTO SHUNT DCB protects AV fistulas and shunt grafts from early restenosis.
For the prevention and successful dilatation of intimal hyperplasia.
APERTO DCB promises a prolonged Dialysis access survival.
Shunt restenosis represents a common threat to the function of arteriovenous fistulas (AVFs) and shunt grafts in patients on hemodialysis. Patients often develop a consecutive neointimal hyperplasia in hemodialysis access vessels as well as along the needle puncture site.
The new APERTO DCB Paclitaxel releasing, high pressure balloon dilatation catheter provides a dual shunt treatment quality for the prevention and dilatation of intimal hyperplasia. AVF or PTFE shunt graft venous outflow lesions can be treated very successfully by the new APERTO OTW leading to a substantial reduction of hemodialysis shunt restenosis, for a prolonged dialysis access survival.
Clinical study results lookencouraging:1,2
The treatment demonstrates a significantly higher success rate of 95% primary patency, six months after shunt treatment by APERTO vs. high pressure standard balloon angioplasty.
1 APERTO DCB study, Groene Hart Hospital , Gouda, Prof. Pattynama, MD, PhD: A randomized trial of APERTO Paclitaxel-eluting shunt dilatation catheter compared to POBA in AV-fistula.

2 APERTO DCB study, University of Insubria, Varese (Italy), Dr. M.Tozzi et al.: Initial experience with a new drug-eluting balloon for the treatment of critical shunt stenosis.
APERTO DCB provides 2 x vessel protectionand long-term shunt-patency!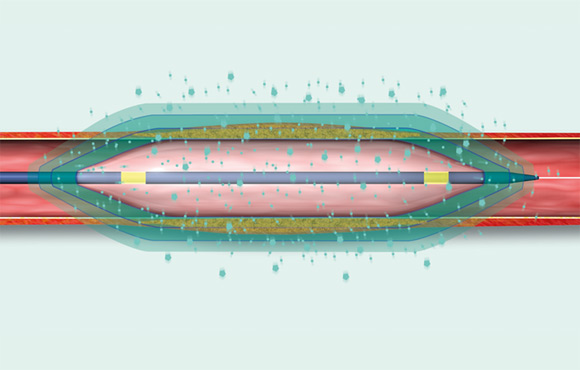 APERTO provides 2x vessel protection. APERTO optimizes the long-term anti-proliferative vessel wall protection, combined with a anti-inflammatory healing effect.
Hemodialysis vessel stenosis is typically treated by using a high pressure PTA dilatation balloon or alternatively a cutting balloon, which is applied to cut into highly calcified and fibrotic lesions. By applying the APERTO DCB, your shunt balloon dilatation is optimized by a 2 fold clinically important vessel wall protection.

1. Paclitaxel is anti-inflammatory
2. Paclitaxel is anti-proliferative
The APERTO OTW Shunt DEB demonstrates a long-term primary patency, and shunt survival of arterio-venous shunt grafts.
For the successful treatment of hemodialysis access stenosis
and recanalization of arterio-venous shunt grafts.
APERTO provides the safest PTX drug release to treat shunt stenosis.
0.1µm unsurpassed small PTX
particulates protect from risk potential
of micro-embolization.
APERTO 'SAFEPAX' technology utilizes the clinically important, stable nanocrystalline PTX coating which was specifically developed for the protection from downstream effects to minimize any risk of micro-embolization in the arterio venous system.